Granard Motte and Bailey is a very ancient structure that was supposedly erected some time before the Danish era. The Motte is a great flat topped eastern mound, on top of which would have been a timber tower surrounded by a palisade. Across the base was a U-shaped bailey, an enclosure surrounded by a palisade ditch. Animals and soldiers were housed in the bailey. It is very strongly fortified except on the southern side, which seems to have been guarded solely by the deep trench on the summit, out of which defenders fired arms and hurles stone missles at the approaching enemy.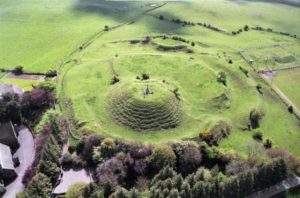 Richard de Tuite is reputed to have built it in 1199 as part of an initiative to extend Norman control over the country. His death, while Lord Chief Justice of Ireland, is recorded in Athlone by the Annals of the Four Masters under the year 1210 and his remains lie today in Abbeylara's Cistercian Abbey.
Standing 534 ft above sea level it is reputed to be the highest Motte in Ireland. The summit affords a view of five lakes, parts of nine counties and a faint outline of Sliabh Bloom Mountains. Many myths are attached to the Motte, some say there is a castle concealed within it, others say it contains vast treasures of gold, while others maintain the hallow in the centre was a grain store.
In 1932 a statue of St. Patrick was erected on top of the Motte to mark the coming of our patron saint to the area.